Channel 119266-ic
General data
Metadata classes
Animal Model: rat
Brain Area: hippocampus, CA1
Neuron Region: unspecified
Neuron Type: pyramidal cell
Runtime Q: Q2
Subtype: C
Metadata generic
Age: adult
Authors: A Houweling
Comments: Ca-dependent potassium current (c-current), from yamada, koch & adams (1989) for bullfrog sympathetic ganglion cells assembled by a houweling. This appears to be from houweling & sejnowski (1997), model no. 3808, with various changes, but no apparent modification to kinetics. This is strictly modeling, with the model taken from a previous paper. Animal model is from ancestry, and is listed as adult because this is a model of an aged pyramidal cell.
Runtime: 69.784
Temperature: Model has temperature dependence.
Current Response Traces
Activation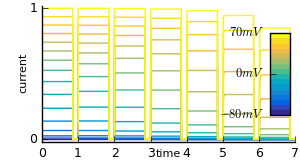 Inactivation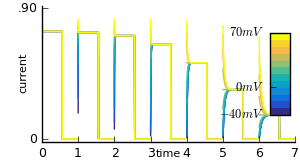 Deactivation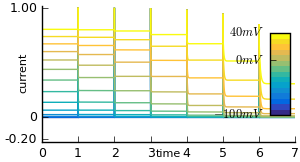 Action Potential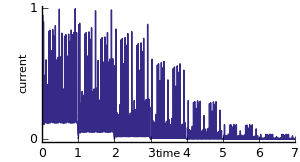 Ramp