Channel 98005-sk_ch
General data
Metadata classes
Animal Model: Sprague-Dawley, mouse, rat, C57BL/6
Brain Area: basal ganglia, striatum (basal ganglia)
Neuron Region: soma, dendrites
Neuron Type: interneuron, cholinergic
Runtime Q: Q3
Subtype: SK
Metadata generic
Age: 3-5 weeks
Authors: M Migliore, M Lazarewicz
Comments: Borg-graham type generic k-ahp channel, sk for cholinergic interneuron. From lazarewicz et al. (2002), model no. 20007, with no modifications. Animal model is from experiments in paper. Sk channel kinetics come from previous model of ca3 pyramidal neuron (lazarewicz et al. 2002).
Runtime: 75.236
Temperature: No temperature dependence.
Current Response Traces
Activation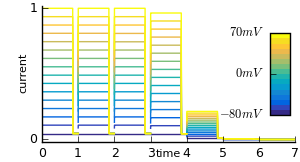 Inactivation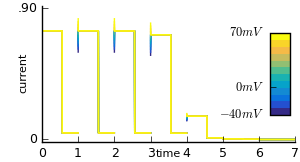 Deactivation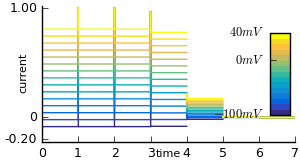 Action Potential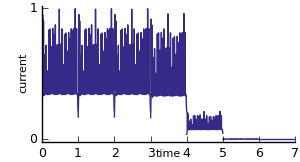 Ramp