Channel 64170-ih
General data
Metadata classes
Animal Model: rat
Brain Area: hippocampus, CA1
Neuron Region: dendrites
Neuron Type: pyramidal cell
Runtime Q: Q3
Subtype: h
Metadata generic
Age: 4-10 weeks
Authors: T Mickus, B Kath, N Spruston, M Migliore
Comments: Hyperpolarization-activated channel; mixed cation current; hodgkin-huxley style kinetics. Based on results from magee, 1998. Written by t mickus, b kath, and n spruston (2000), modified from original iq model by n spruston in stuart & spruston (1998), model no. 3677. That file was originally modified from one provided by m migliore. Actual temperature for simulation defined in neuron. Sigmoidal density distribution from soma. Animal model is from experiments in paper. Channel kinetics originally from ca1 hipp pyramidal cells, from magee (1998), similar to formulation in stuart & spruston (1998).
Runtime: 14.001
Temperature: Model has temperature dependence.
Current Response Traces
Activation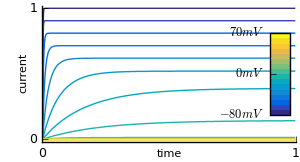 Inactivation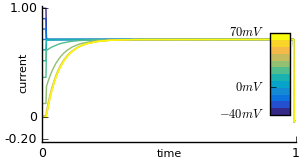 Deactivation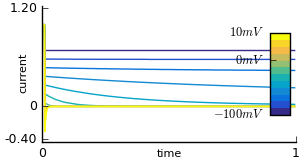 Action Potential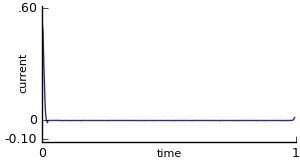 Ramp