Channel 114394-h
General data
Metadata classes
Animal Model: Wistar, rat
Brain Area: somatosensory cortex, layer 5, cortex
Neuron Region: soma, dendrites
Neuron Type: pyramidal cell
Runtime Q: Q2
Subtype: h
Metadata generic
Age: 2-4 weeks old
Authors: S Hallermann
Comments: Deterministic model of kinetics and voltage-dependence of ih-currents in layer 5 pyramidal neuron, implemented by s hallermann. Predominantly hcn1 / hcn2. Taken from kole et al. (2006), model no. 64195, with modified parameters (lines 23-28), but the same kinetics. This paper contains experimental results from rats, as well as modeling based on a previous model. The animal model info here is from the experimental results, the morphology of the model is not specified, could also come from the ancestor model.
Runtime: 13.718
Temperature: Model has temperature dependence. Kinetics were originally recorded at 34 deg C, simulations run here at 37 deg C.
Current Response Traces
Activation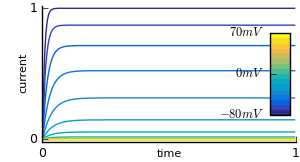 Inactivation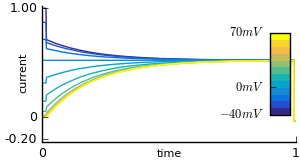 Deactivation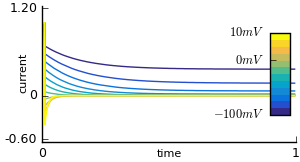 Action Potential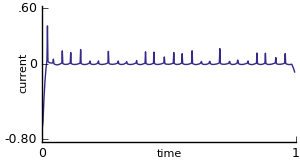 Ramp