Channel 110560-calcium
General data
Metadata classes
Animal Model: rat
Brain Area: somatosensory cortex, cortex
Neuron Region: unspecified
Neuron Type: pyramidal cell, interneuron, stellate cell, spiny cell
Runtime Q: Q2
Subtype: not specified
Metadata generic
Age: 2-5 weeks
Authors: A Korngreen
Comments: Voltage-gated calcium, not discussed in detail in the paper, it is not clear where this comes from or if it has any ancestors. Animal model comes from experiments in paper. Morphology comes from various previously characterized neurons of rat somatosensory cortex. Note that modeldb entry says l5/6 pyramidal neuron, so it is possible that the modeldb simulation is limited to this.
Runtime: 7.358
Temperature: No temperature dependence.
Current Response Traces
Activation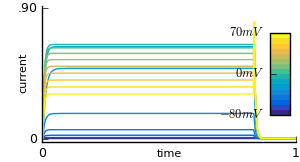 Inactivation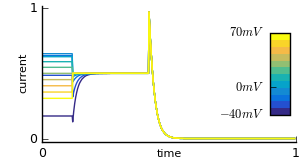 Deactivation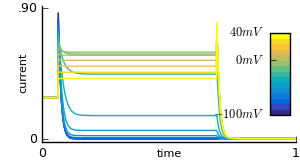 Action Potential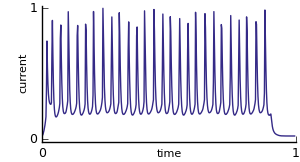 Ramp