Channel 127507-newcachan
General data
Metadata classes
Animal Model: rat
Brain Area: basal ganglia, ventral tegmental area (VTA), substantia nigra pars compacta (SNc)
Neuron Region: soma
Neuron Type: dopaminergic
Runtime Q: Q4 (slow)
Subtype: TNL
Metadata generic
Age: not specified
Authors: A Kuznetsova, M Huertas
Comments: Calcium channels (l, n and t types). Calcium-mediated inactivation of the l-type current was removed, based on evidence from wilson and callaway 2000. Taken from komendantov et al. (2004), model no. 83547, with many changes to kinetics. Ancestor file has separate equations for l, n and t currents, as well as hva current. This version has removed the can and cat currents. Modeling study, with animal model taken from the ancestor model (komendantov et al. 2004)
Runtime: 8.239
Temperature: No temperature dependence.
Current Response Traces
Activation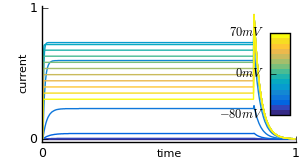 Inactivation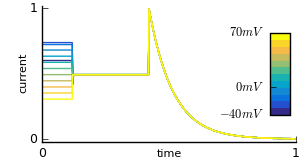 Deactivation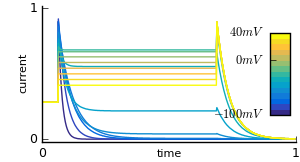 Action Potential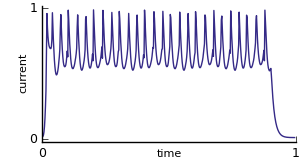 Ramp