Channel 149000-CaP2
General data
Metadata classes
Animal Model: rat
Brain Area: cerebellum, Purkinje cell layer
Neuron Region: soma, dendrites
Neuron Type: Purkinje cell
Runtime Q: Q1 (fast)
Subtype: P-type
Metadata generic
Age: adult
Authors: H Miyakawa, E De Schutter, J Bower
Comments: P calcium current (not inactivate), from "an active membrane model of the cerebellar purkinje cell " de schutter and bower (1994). No idea why there are two of these. Taken from miyasho et al. (2001), model no. 17664, with no changes (identical mod file). Modeling study based on ancestor model in genesis. Animal model info here is from the morphology used in the model here.
Runtime: 6.953
Temperature: Model has temperature dependence, with default kinetics at 37 deg C.
Current Response Traces
Activation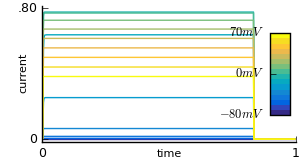 Inactivation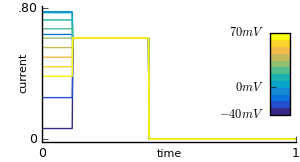 Deactivation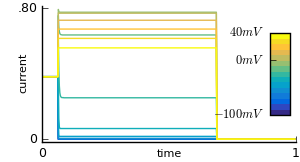 Action Potential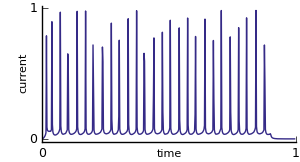 Ramp