Channel 98005-cal_ch
General data
Metadata classes
Animal Model: Sprague-Dawley, mouse, rat, C57BL/6
Brain Area: basal ganglia, striatum (basal ganglia)
Neuron Region: soma, dendrites
Neuron Type: interneuron, cholinergic
Runtime Q: Q3
Subtype: L-type
Metadata generic
Age: 3-5 weeks
Authors: M Migliore, M Lazarewicz
Comments: L-type calcium channel. Migliore file modified by m lazarewicz may 2001. This is the cav1.3 channel. From lazarewicz et al. (2002), model no. 20007, with the following modifications: additional parameters (lines 33-39), and modification of kinetics (lines 105-108). Animal model is from experiments in paper. L-type ca channel kinetics come from previous model of ca3 pyramidal neuron (lazarewicz et al. 2002).
Runtime: 7.852
Temperature: Model has temperature dependence, with default at 6.3 deg C. Experiments used to fit model were done at various temperatures.
Current Response Traces
Activation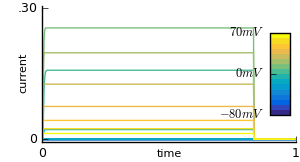 Inactivation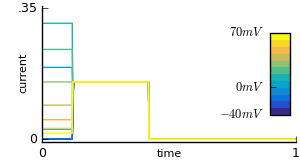 Deactivation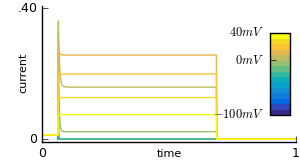 Action Potential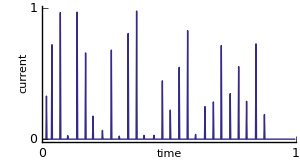 Ramp