Channel 82849-hva
General data
Metadata classes
Animal Model: rat
Brain Area: layer 5, prefrontal cortex, cortex
Neuron Region: soma, dendrites
Neuron Type: pyramidal cell
Runtime Q: Q2
Subtype: HVA
Metadata generic
Age: 14-28 days
Authors: D Durstewitz
Comments: High voltage activated ca2+ current. Consists of both l- and n-type channels, model taken from brown et al. (1993), also cites hell et al. (1993), schiller et al. (1995), seamans et al. (1997), and westenbroek et al. (1989). No modeldb ancestors. Animal model is from experiments in paper. Channel model was adapted from previous model of rat neocortex (brown et al. 1993). NOTE: this file is not temperature dependent, and so the calculation of the reversal potential may be off depending on the simulation temperature.
Runtime: 7.568
Temperature: No temperature dependence.
Current Response Traces
Activation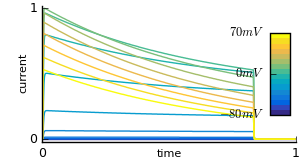 Inactivation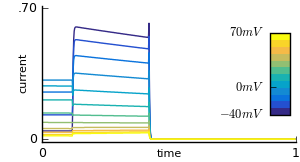 Deactivation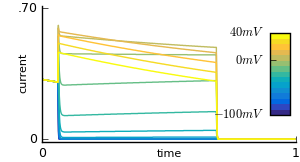 Action Potential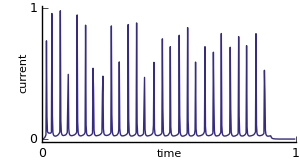 Ramp