Channel 53965-IT2
General data
Metadata classes
Animal Model: human
Brain Area: thalamocortical circuit
Neuron Type: thalamocortical relay cell (TC, TCR), thalamic reticular (RE) cell
Runtime Q: Q3
Subtype: T-type
Metadata generic
Age: various
Authors: A Destexhe, I Vitko
Comments: Low threshold calcium current responsible for low threshold spikes (lts), model of huguenard & mccormick (1992) for reticular thalamus. Biophysical properties modified from expt data from vitko et al. (2005). Taken from destexhe et al. (1996), model no. 17663, modified to fit new data. Note that the three it2 currents from this model are different from one another. Channels originally from thalamic reticular neurons in cat (destexhe et al. 1996), fit here to new data from human recombinant channels, still aimed at the thalamocortical circuit.
Runtime: 7.775
Temperature: Model has temperature dependence.
Current Response Traces
Activation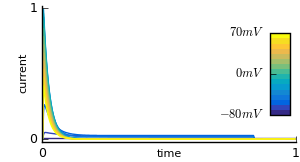 Inactivation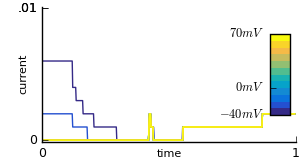 Deactivation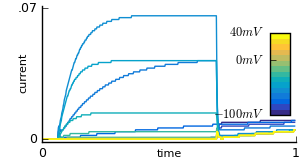 Action Potential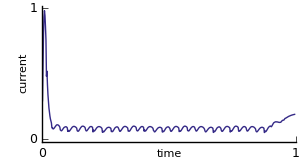 Ramp