Channel 53569-CaP
General data
Metadata classes
Animal Model: rat
Brain Area: spinal cord
Neuron Region: soma, dendrites
Neuron Type: fusiform neuron
Runtime Q: Q2
Subtype: P-type
Metadata generic
Age: adult (>40 days)
Authors: A Destexhe, A Houweling, S Prescott
Comments: Persistent calcium current. Modified by s prescott based on current described in prescott & de koninck (2005), originally ca2+ current responsible for lts in reticular thalamus based off of huguenard & mccormick (1992), written by a destexhe sept 1992. Modified by s prescott 2005. Mod file taken from houweling and sejnowski (1997), model no. 3808, with modified gcabar, and removal of inactivation variable. Animal model is from experiments in paper.
Runtime: 7.594
Temperature: Model has temperature dependence. Simulations were done at 23 deg C.
Current Response Traces
Activation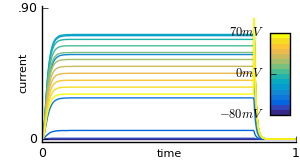 Inactivation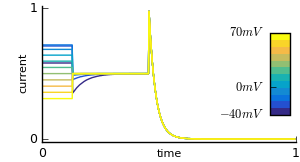 Deactivation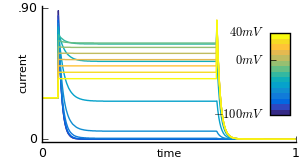 Action Potential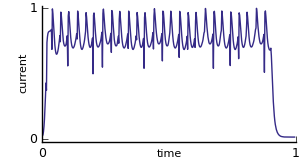 Ramp