Channel 52034-cah
General data
Metadata classes
Brain Area: layer 5, cortex
Neuron Region: soma
Neuron Type: pyramidal cell, regular spiking (RS) cell, intrinsically bursting (IB) cell, fast-spiking (FS) cell, interneuron
Runtime Q: Q3
Subtype: not specified
Metadata generic
Authors: W Lytton, P Bush, L Borg-Graham
Comments: Borg-graham channel model of sodium potassium and calcium dynamics in a h-h style hippocampal pyramidal neuron model. Model from bush & sejnowski (1994, 1996). No model db ancestors. Modeling study, animal model is considered generic. Channel kinetics come from previous modeling studies of cortical pyramidal neurons.
Runtime: 7.806
Temperature: Model has temperature dependence, default at 37 deg C.
Current Response Traces
Activation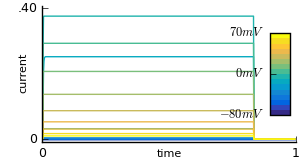 Inactivation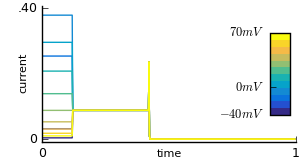 Deactivation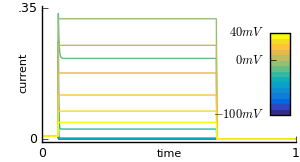 Action Potential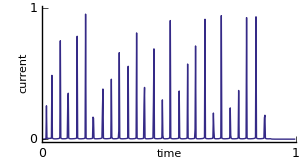 Ramp