Channel 113732-catp
General data
Metadata classes
Animal Model: human
Brain Area: somatosensory cortex, layer 5, layer 2/3, cortex
Neuron Region: soma, dendrites
Neuron Type: pyramidal cell, inhibitory, interneuron
Runtime Q: Q4 (slow)
Subtype: T-type
Metadata generic
Age: adult (18-45 years old)
Authors: Y Poirazi
Comments: T-type calcium channel with high threshold for activation used in somatic and dendritic regions. Not mentioned in paper, but model appears to be derived from poirazi et al. (2003), model no. 20212, with no changes. Experimental data, meg imaging of humans, with modeling of layer 2/3 and layer 5 pns, morphology adapted from bush and sejnowski (1993) from cat visual cortex, originally from koch et al. (1990). The animal model info here is from the experimental procedures here.
Runtime: 9.005
Temperature: Model has temperature dependence, with default at 22 deg C, assumes q10 of 3.
Current Response Traces
Activation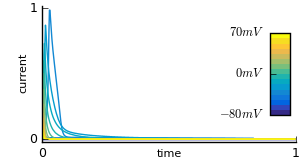 Inactivation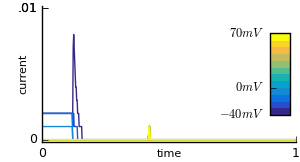 Deactivation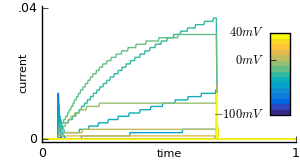 Action Potential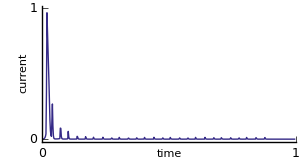 Ramp