Channel 144482-cat
General data
Metadata classes
Animal Model: Sprague-Dawley, rat
Brain Area: layer 2/3, cortex, auditory cortex
Neuron Region: soma, dendrites, dendritic spine, dendritic shaft (apical shaft)
Neuron Type: pyramidal cell
Runtime Q: Q1 (fast)
Subtype: T-type
Metadata generic
Age: P14-24
Authors: B Kampa, JY Delgado
Comments: T-type ca channel, thalamic current inspired by destexhe and huguenard, modified by as oct 1999, b kampa 2005, and delgado. Model cites traub et al. (2003) and mainen et al. (1995), but this appears to come from kampa & stuart (2006), model no. 108458, with no changes except for suffix. Modeling study, with experimental results (animal model info here), model was taken from two previous models of neocortical pyramidal cells (mainen et al. 1995, traub et al. 2003).
Runtime: 6.983
Temperature: No temperature dependence.
Current Response Traces
Activation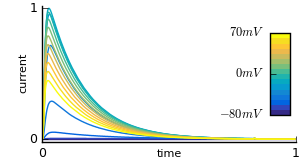 Inactivation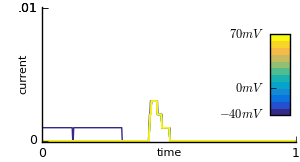 Deactivation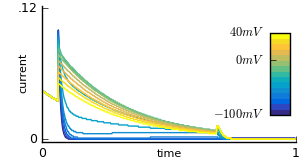 Action Potential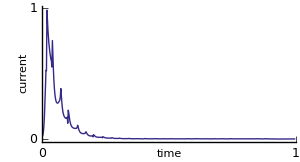 Ramp