Channel 140462-ICat2
General data
Metadata classes
Animal Model: Sprague-Dawley, rat
Brain Area: olfactory bulb (OB), glomerular layer
Neuron Region: single compartment
Neuron Type: juxtaglomerular cell
Runtime Q: Q1 (fast)
Subtype: HVA
Metadata generic
Age: 12-21 days old
Authors: M Lazarewicz, A Masurkar
Comments: Sustained calcium current, form plateau potential-firing rat olfactory glomerular neurons, originally implemented by m lazarewicz 2003, modified by a masurkar to resemble hva current in plateau-firing juxtaglomerular neurons. From traub et al. (2003), model no. 20756, with various modifications. Experimental and modeling results here, the animal model info is from the experiments in this paper.
Runtime: 7.312
Temperature: No temperature dependence. Simulations done at 35 deg C, experiments done at 33-37 deg C.
Current Response Traces
Activation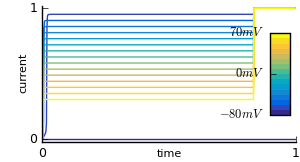 Inactivation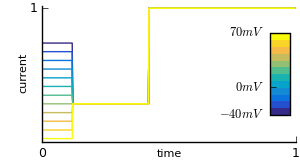 Deactivation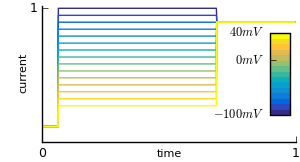 Action Potential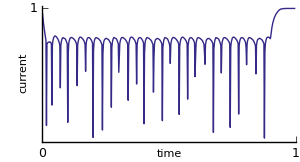 Ramp