Channel 156120-Na_pyr_bk
General data
Metadata classes
Neuron Region: single compartment
Neuron Type: inhibitory, generic, excitatory
Runtime Q: Q1 (fast)
Subtype: not specified
Metadata generic
Authors: R van Elburg
Comments: Sodium current, written by ronald van elburg, taken from model for fast spiking neuron in tegner et al. (2002). All parameters were as in jensen et al. (2005). No apparent modeldb ancestors. Modeling study that uses experimental results from humans, rats and mice (van aerde et al. 2009; linkenkaer-hansen et al. 2001; montez et al. 2009; poil et al. 2011). Animal model and neuron model are considered generic.
Runtime: 4.431
Temperature: No temperature dependence.
Current Response Traces
Activation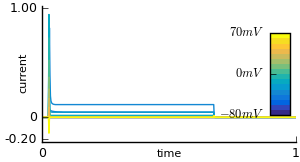 Inactivation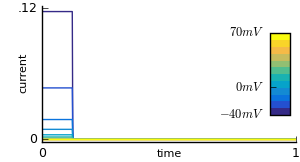 Deactivation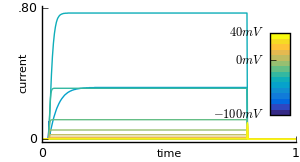 Action Potential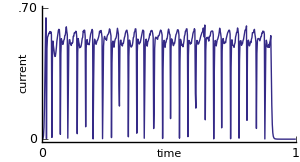 Ramp