Channel 82784-NapDA
General data
Metadata classes
Animal Model: rat
Brain Area: prefrontal cortex, cortex, deep
Neuron Region: single compartment
Neuron Type: interneuron
Runtime Q: Q4 (slow)
Subtype: persistent
Metadata generic
Age: less than 55 days
Authors: D Durstewitz
Comments: Persistent na channel under d1, from durstewitz & gabriel (2006). Taken from durstewitz et al. (2000), model no. 82849, with the following changes: removal of procedure rate, modification of conditional if statements in functions malf, mbet, half, and hbet, modification of derivative states. This file differs from the other nap mod file in that there is an extra constant divisor factor in kinetics (line 44). Animal model is from experiments in this paper, channel kinetics come from a previous model of cortical pyramidal neuron (durstewitz et al. 2000).
Runtime: 6.048
Temperature: No temperature dependence.
Current Response Traces
Activation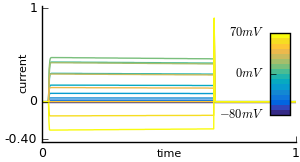 Inactivation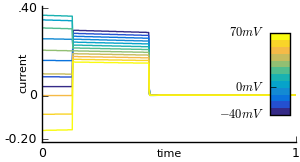 Deactivation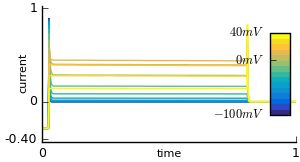 Action Potential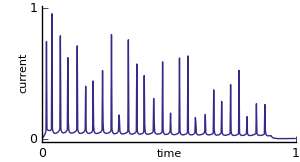 Ramp