Channel 64195-na
General data
Metadata classes
Animal Model: Wistar, rat
Brain Area: somatosensory cortex, layer 5, cortex
Neuron Region: soma, dendrites, axon
Neuron Type: pyramidal cell
Runtime Q: Q2
Subtype: not specified
Metadata generic
Age: 28-70 days
Authors: Z Mainen, S Hallermann
Comments: Sodium channel, h-h kinetics, fit to data from huguenard et al. (1988) and hamill et al (1991). Written by z mainen 1994, modified by s hallermann (2006) to correct error in trap0 function. Taken from schaefer et al. (2003), model no. 83344, with slightly different implementation but no apparent changes to kinetics. Experimental data to get info for ih currents, model very similar to ancestor. The animal model info here is from the experimental procedures.
Runtime: 4.513
Temperature: Model has temperature dependence, with q10 set to 2.3 and original kinetics at 23 deg C. Simulation temperature was 35 deg C, experimental procedures at 33-35 deg C.
Current Response Traces
Activation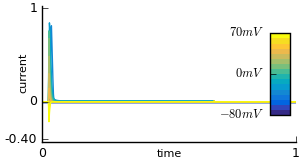 Inactivation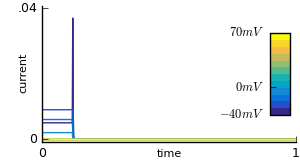 Deactivation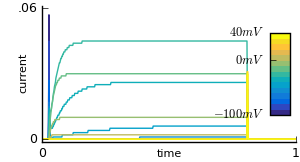 Action Potential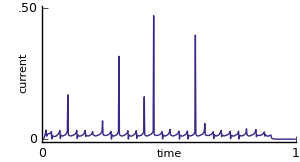 Ramp