Channel 62673-mcna1e
General data
Metadata classes
Animal Model: rat
Brain Area: hippocampus, CA1, prefrontal cortex, cortex, dentate gyrus (DG)
Neuron Region: soma, dendrites, axon, proximal dendrites
Neuron Type: pyramidal cell, granule cell
Runtime Q: Q4 (slow)
Subtype: not specified
Metadata generic
Age: 4-7 weeks old for cortex, 16-18 day old for hippocampus
Authors: G Baranauskas
Comments: Two-closed one-open state sodium channel model, implemented by g baranauskas nov 2005, model fit to voltage clamp data in barnauskas and martina (2006). No model db ancestors. Experimental results and modeling. The animal model info here is from the experimental results, which came from cortex as well as hippocampus.
Runtime: 5.48
Temperature: Model has temperature dependence, with original kinetics at 13 deg C.
Current Response Traces
Activation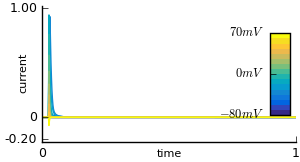 Inactivation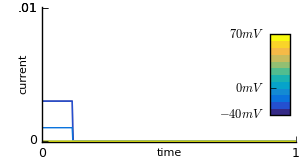 Deactivation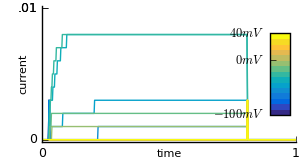 Action Potential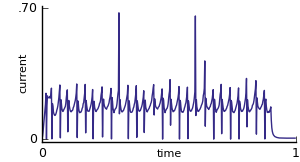 Ramp