Channel 54903-naxn
General data
Metadata classes
Animal Model: mouse
Brain Area: organ of Corti (cochlea)
Neuron Region: soma, axon, axon initial segment (AIS)
Neuron Type: type II ganglion cell
Runtime Q: Q3
Subtype: not specified
Metadata generic
Age: adult
Authors: M Migliore.
Comments: Na current for axon, no slow inactivation. Written by m. Migliore jul 1997. From migliore et al. (2004), model no. 32992, with one change: modified sh parameter here set to 0 mv. Modeling study coupled with some experimental staining results. The animal model here is from the experimental methods, as well as the morphology of the neuron model. Note that morphology comes from illustration of type ii ganglion cell in berglund and ryugo (1987).
Runtime: 4.818
Temperature: Model has standard temperature dependence with q10=2.
Current Response Traces
Activation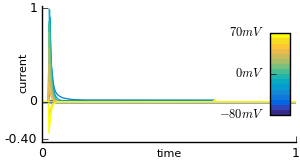 Inactivation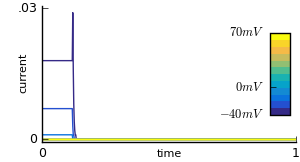 Deactivation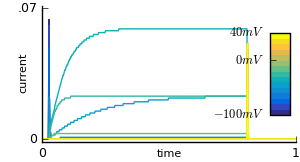 Action Potential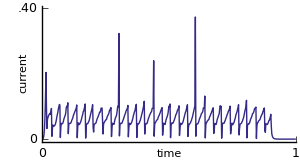 Ramp