Channel 144523-NaP
General data
Metadata classes
Animal Model: rat
Brain Area: distal cerebellar nucleus (DCN)
Neuron Region: soma
Neuron Type: excitatory
Runtime Q: Q2
Subtype: persistent
Metadata generic
Age: P13-19
Authors: J Luthman, V Steuber
Comments: Persistent sodium current (nap) of deep cerebellar nucleus (dcn) neuron, translated from genesis by j luthman and v steuber. Original model from steuber et al. (2011) in genesis. No modeldb ancestors. Modeling study, animal model is from experiments in ancestor model.
Runtime: 4.495
Temperature: No temperature dependence. Simulations were done at 37 deg C, and a temperature correction was performed on all channels using a Q10 of 3 for activation and 1.4 for inactivation.
Current Response Traces
Activation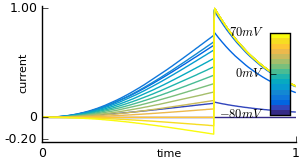 Inactivation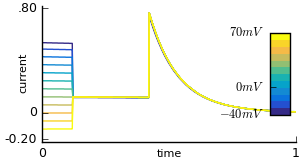 Deactivation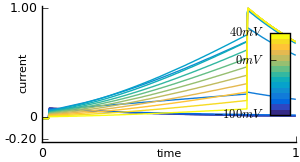 Action Potential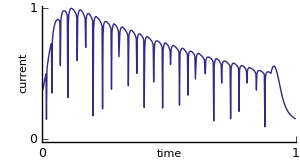 Ramp