Channel 139657-sjg_na
General data
Metadata classes
Animal Model: mouse
Brain Area: superior paraolivary nucleus (SPN) of the auditory brainstem
Neuron Region: single compartment
Neuron Type: not specified
Runtime Q: Q3
Subtype: low threshold
Metadata generic
Age: various - P14-21 for in vitro, P23-54 for in vivo
Authors: PB Manis, SJ Griffin
Comments: The low threshold conductance of cochlear nucleus neurons. Implementation of j rothman's measurements, originally implemented by pb manis 1999, modified by sj griffin. This file possibly has a modeldb ancestor but it is not specified in the paper. No ancestors are listed. Animal model comes from experiments in paper.
Runtime: 5.075
Temperature: No temperature dependence.
Current Response Traces
Activation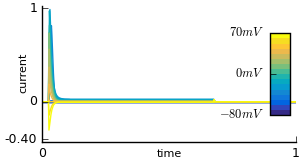 Inactivation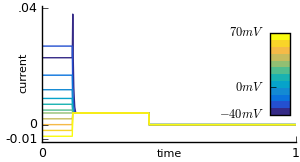 Deactivation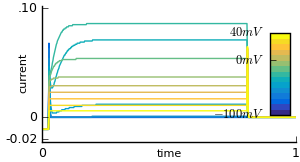 Action Potential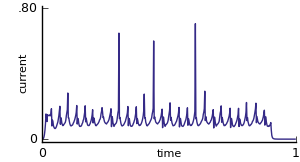 Ramp