Channel 135898-kd
General data
Metadata classes
Animal Model: rat, ferret
Brain Area: layer 5, prefrontal cortex, cortex
Neuron Region: unspecified
Neuron Type: pyramidal cell
Runtime Q: Q2
Subtype: D
Metadata generic
Age: ferret: 7-12 weeks old, rat: P17-22
Authors: Y Yu
Comments: K-d current for prefrontal cortical neuron - yuguo yu 2007. No modeldb ancestors. An experimental study on ferret and rat l5 pyramidal neurons, with a simple model of soma and axon at the end specifically for testing the kd channel. The animal model info here is from the experimental procedures.
Runtime: 7.618
Temperature: Model has temperature dependence, with q10 set to 2.3 and original kinetics at 22 deg C.
Current Response Traces
Activation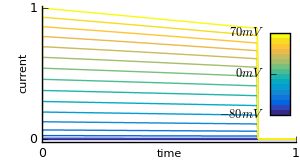 Inactivation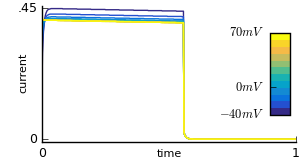 Deactivation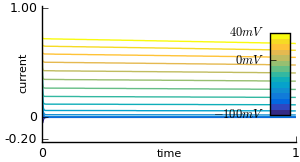 Action Potential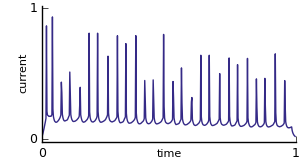 Ramp