Channel 122329-kv2_gp
General data
Metadata classes
Animal Model: mouse, rat
Brain Area: basal ganglia, globus pallidus (GP)
Neuron Type: globus pallidus (GP) neuron
Runtime Q: Q4 (slow)
Subtype: 2
Metadata generic
Age: P15-25 (rat), P17-22 (mouse)
Authors: J Held
Comments: Kv2 channel model using hh-type activation/inactivation, by j held mar 2003. Taken from mercer et al. (2007), model no. 105385, with no changes (identical mod file). Animal model is from experiments in paper, channel kinetics come from previous study of gp (mercer et al. 2007).
Runtime: 8.87
Temperature: Model has temperature dependence, original at 22 deg C.
Current Response Traces
Activation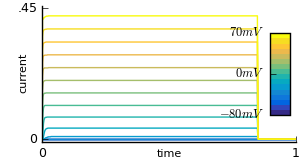 Inactivation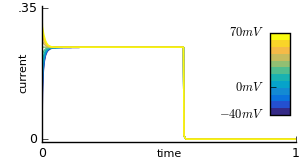 Deactivation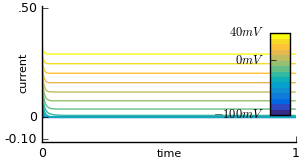 Action Potential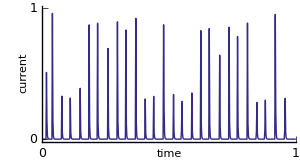 Ramp