Channel 127507-newhh3_icgK2
General data
Metadata classes
Animal Model: rat
Brain Area: basal ganglia, ventral tegmental area (VTA), substantia nigra pars compacta (SNc)
Neuron Region: soma, dendrites, distal dendrites, proximal dendrites
Neuron Type: dopaminergic
Runtime Q: Q4 (slow)
Subtype: HH
Metadata generic
Age: not specified
Authors: A Kuznetsova, M Huertas
Comments: Squid sodium, potassium delayed rectifier and potassium a channels. Taken from komendantov et al. (2004), model no. 83547, with the same kinetics, but different initial states and parameters used for kinetics in derivative states. Modeling study, with animal model taken from the ancestor model (komendantov et al. 2004)
Runtime: 8.905
Temperature: Model has temperature dependence.
Current Response Traces
Activation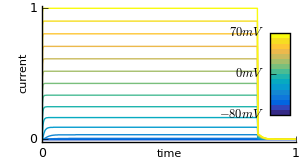 Inactivation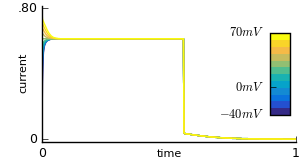 Deactivation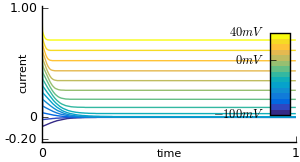 Action Potential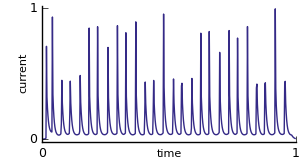 Ramp