Channel 154732-km
General data
Metadata classes
Animal Model: rat
Brain Area: hippocampus, CA1
Neuron Region: unspecified
Neuron Type: pyramidal cell
Runtime Q: Q4 (slow)
Subtype: m
Metadata generic
Age: 50 days
Authors: Z Mainen, BP Graham
Comments: Potassium channel, based on i-m (muscarinic k channel), slow and non inactivating. By z mainen. From mainen & sejnowski (1996), model no. 2488. Modeling study with kinetics taken mostly from migliore et al. (2005), also of ca1 pyr cell. Animal model is from morphology used here.
Runtime: 9.59
Temperature: Model has temperature dependence, with q10 set to 2.3 and original kinetics at 23 deg C.
Current Response Traces
Activation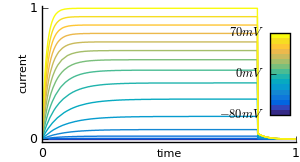 Inactivation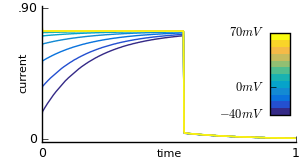 Deactivation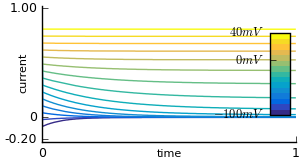 Action Potential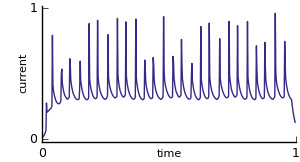 Ramp