Channel 146026-kslow
General data
Metadata classes
Animal Model: rat
Brain Area: somatosensory cortex, layer 5, cortex
Neuron Region: soma, dendrites, apical dendrites, dendritic tuft (apical tuft)
Neuron Type: pyramidal cell
Runtime Q: Q2
Subtype: slow
Metadata generic
Age: 17-25 days old
Authors: A Korngreen.
Comments: Voltage-gated potassium channel, hh-style kinetics, fit to data from recordings of nucleated patches derived from pyramidal neurons. Data recordings and fits from alon korngreen. Paper references korngreen and sakmann (2000), model no. 3289 as ancestor, however this is unclear due to the large differences between the files. Modeling study that uses experimental data (somatic voltage responses) from bekkers and hausser (2007), which is reflected in the animal model here. Ancestor channel animal model is similar.
Runtime: 7.673
Temperature: Experiments referenced in paper (Bekkers and Hausser 2007) done at 32-34 deg C. Original temp of kinetics is 21 deg C, with q10=2.3.
Current Response Traces
Activation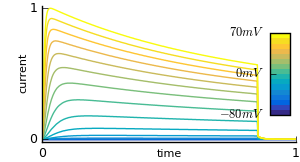 Inactivation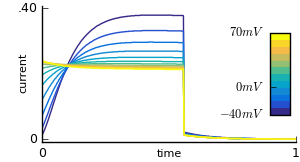 Deactivation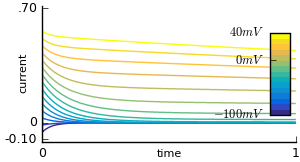 Action Potential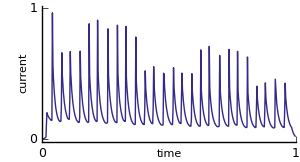 Ramp