Channel 114637-iap
General data
Metadata classes
Animal Model: cat
Brain Area: visual cortex, cortex, layer 4
Neuron Region: soma
Neuron Type: stellate cell, spiny cell
Runtime Q: Q2
Subtype: HH
Metadata generic
Age: unspecified
Authors: O Bernander
Comments: Hh channel, mel-modified h-h conductances (after ojvind et al.), remodified by ojvind to exactly simulate old version. From bernander et al. (1994), no model db ancestors. Two of these papers contain experimental data that was later used as morphology to create a model.
Runtime: 7.557
Temperature: Model has temperature dependence.
Current Response Traces
Activation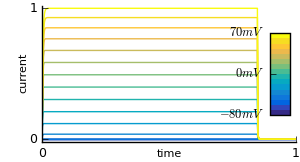 Inactivation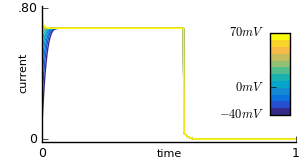 Deactivation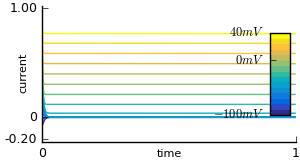 Action Potential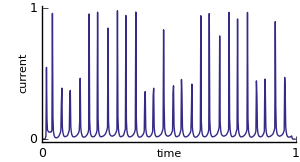 Ramp